Basic GameplayEdit
Hello Kitty: Fantasy Theater is a figure-matching game. Basically, you have to select one piece and match it with the same pieces you see on your screen.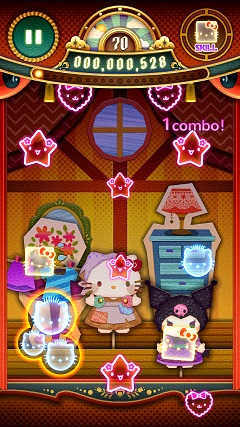 You can combine them by tapping, grabbing, and swiping towards the other identical piece and then release your finger.
The more pieces you connect, the better the score you'll get! There's no limit on how many you can combine.
When you successfully combined 5 same pieces or more, a random SP (Special Power) will appear which you can use to take advantage on getting more points. These Special Powers are very useful especially in crucial time. Use them wisely to create more combinations and earn more scores.
They can also be moved if it's blocking your way when performing longer combos.
You have to think and act fast since too as it has a time limit and the pieces just keep scrolling down. It may sound easy, but that's just the basic!
We still have more challenges for you! Pieces that drop at the bottom of the screen will be gone and no scores will be gained from it.
Community content is available under
CC-BY-SA
unless otherwise noted.