How do i use a Character's Skill?Edit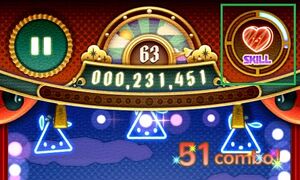 To use your character's skill, just tap the Skill icon on the top right corner of the game interface.
But, you need to charge up your skill first to make it available to use. You can get the charges by vanishing the pieces that's associated with the character that you chose to play on.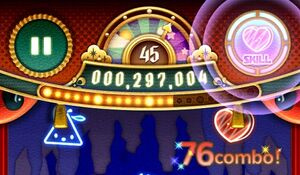 Once the skill icon starts to glow, it means it's ready to use! Tap it and enjoy the effects!
Charging up of Character's SkillEdit
It's simple! You just need to connect a certain total number of pieces that are associated to the character you're using.
For example if you used Dear Daniel, you must combine Dear Daniel's pieces to fill up your skill gauge.
The required number of pieces differ per character and its Skill Level. You can see the required pieces in the character's information window.
What Happens If I Didn't Use My Character's Skill?Edit
Chances would be, you'll have a lower score. Charge up your skill as often as you can and use your skill at the right time.
But if you ran out of time and your skill was unused, you'll activate the Skill Roulette feature.
Here's what it's going to look like: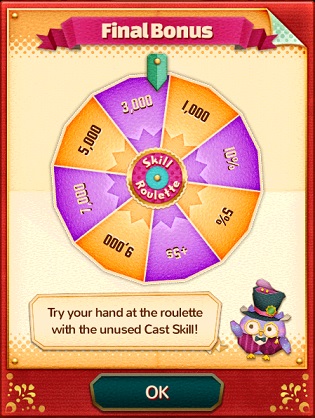 Wanna know more what happens when I activate Skill Roulette?
How to upgrade a Character's Skill?Edit
There are two ways to upgrade their skills. One is by getting the same character from Audition that you currently have in your roster.
Or, by getting a Skill Ticket.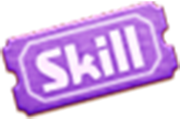 To upgrade a character using a Skill Ticket:
1. Choose which character you'd like to level up.
2. Tap on the "+" button beside the Skill Level.
3. It will then automatically apply the Skill EXP to the character.
Here's a list of the Skill EXP you'll gain based on Skill Level:
| Level | Amount |
| --- | --- |
| Level 1 to 2 | 50% |
| Level 2 to 3 | 25% |
| Level 3 to 4 | 25% |
| Level 4 to 5 | 25% |
| Level 5 to 6 | 25% |
Want to know more about Audition?
Community content is available under
CC-BY-SA
unless otherwise noted.