Main HomepageEdit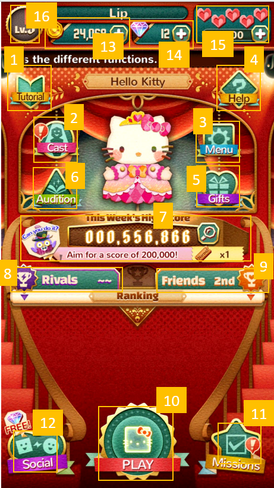 | | |
| --- | --- |
| 1) | This portion of the main menu brings the player to the tutorial portion of the game where players can refresh and replay any portions of the game that he might be not clear with at any point of time. |
| 2) | Brings players to the Cast Selection Screen where the stats and different character traits can be examined and seen after a player chooses the character that he wants to look at. |
| 3) | Brings players to the menu portion of the game. It also allows them to assign new SNS Login. |
| 4) | Help Segment brings players to New Updates, Forum, Support, go to Facebook Twitter, Instagram and youtube. |
| 5) | Lets players takes the gifts that is able to be obtained. |
| 6) | Audition portion of the the game brings players to the four different gacha options allowing them to choose between Normal Audition, Special Audition, Premium Audition and Golden Gacha Audition. |
| 7) | This is where the scores of the player is shown. |
| 8) | Tapping this will let players look at all the Rivals they made as they play the game. |
| 9) | Tapping this will let players look at all the Friend they made as they play the game. |
| 10) | Lets players play the game and attempt to uncover the story. |
| 11) | Shows pending posters that the players are working to uncover and daily missions. |
| 12) | Generates an instant link that allows players to pass to their friends. |
| 13) | Shows the Gold that the player currently has the Plus sign allows players to purchase more gold with crystals. |
| 14) | Shows Crystal amount and allows players to buy more crystals with actual currency. |
| 15) | Shows Hearts that can be bought with crystals by accessing the plus button. |
| 16) | Shows current player level. |

Relinking
Relinking is the the action of players linking an existing social network account that already has a game account to the current account on your device. Doing this will cause the earlier game account linked to the social network account to break its link with it.
Switching
Downloads the progress of a game account that is already linked to the entered Social network account to be loaded into the current device. This replaces any existing games on the device. However, if the player still remembers the social network account linked to the account replaced he can undo this action.
Community content is available under
CC-BY-SA
unless otherwise noted.